The odds of winning the American MegaMillions lottery jackpot top prize are pretty good compared to for instance the Italian SuperEnaLotto. But the odds are long enough for American Mega Millions lotto to build up some very big and tasty jackpots.
For example, on January 4th 2011, we had a MegaMillions lotto drawing worth $390 million dollars. This is the second largest jackpot in the history of American lotteries and the second largest lottery jackpot in the world! Incidentally, the biggest lottery jackpot ever won was a $390 million Mega Millions jackpot drawn on the 6th of March 2007! However, this is about to change, because Mega Millions American lotto jackpot estimated for draw on the 30th of March 2012 reached already $500 million USD (half a BILLION dollars) the question remains: how far it can keep rolling-over?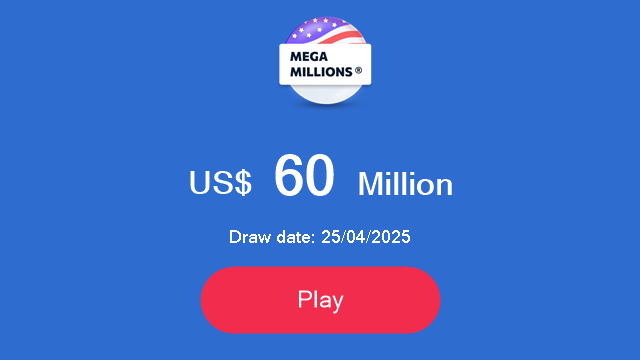 This is why not only residents of the United States play American Mega Millions lotto but also foreigners from all over the world who like to play for big lottery jackpots that can fulfill their dreams. This has made the USA MegaMillions lottery very popular around the whole wide world.
Detailed odds of winning in the American MegaMillions USA lottery are presented in the table below:
Prize Divisions

| | | |
| --- | --- | --- |
| Divisions | Match | Winning Odds |
| 1 Prize | 5+PB | 1:175,711,538 |
| 2 Prize | 5 | 1:3,904,701 |
| 3 Prize | 4+PB | 1:689,065 |
| 4 Prize | 4 | 1:15,313 |
| 5 Prize | 3+PB | 1:13,781 |
| 6 Prize | 3 | 1:360 |
| 7 Prize | 2+PB | 1:844 |
| 8 Prize | 1+PB | 1:141 |
| 9 Prize | 0+PB | 1:75 |

Divisions
Match
Winning Odds
1 Prize
5+PB
1:175,711,538
2 Prize
5
1:3,904,701
3 Prize
4+PB
1:689,065
4 Prize
4
1:15,313
5 Prize
3+PB
1:13,781
6 Prize
3
1:360
7 Prize
2+PB
1:844
8 Prize
1+PB
1:141
9 Prize
0+PB
1:75
Divisions
Match
Winning Odds
1 Prize
5+PB
1:175,711,538
2 Prize
5
1:3,904,701
3 Prize
4+PB
1:689,065
4 Prize
4
1:15,313
5 Prize
3+PB
1:13,781
6 Prize
3
1:360
7 Prize
2+PB
1:844
8 Prize
1+PB
1:141
9 Prize
0+PB
1:75