The American MegaMillions lottery was launched in May 2002. It replaced the Big Game lottery which had been running since August 1996. The Mega Millions is one of the biggest jackpot lotteries in the world and one of two huge numbers games on offer in the United States – the other one is the Powerball lottery.
These two seem to have a habit of fighting it out for the biggest lottery jackpots on record. Currently the Mega Millions is credited with the second largest jackpot ever, on the 23rd of October 2018, one lucky ticket holder hit an incredible prize sum, totaling 1537 million dollars!
Such a big lottery is destined to draw interest from all over the world and foreign players will be happy to learn that you can play MegaMillions online worldwide, regardless of which country you reside and live in.
How does the American MegaMillions lottery work?
A draw consists of five main winning numbers plus one megaball number, so the sequence is a total of 6 numbers. Since June 2005, a player picks, or allows the lottery terminal to pick, five different numbers from 1 through 56 (white balls) and one number from 1 through 46 (the Mega Ball number, a gold-colored ball).The Mega Ball number is drawn from a separate machine, so it can be a duplicate of one of the white ball numbers. The Mega Ball number cannot cross over to be used for matching a white ball number, or vice versa.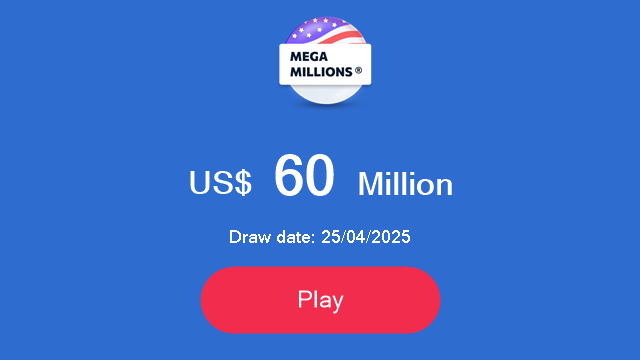 Two drawing machines are used in conducting each drawing. The model used for this purpose is the Criterion II, manufactured by Smartplay International. The balls are moved around by means of counter-rotating arms which randomly mix the balls. One by one, the five white ball numbers drop through a hole in the bottom of the mixing drum. There are 56 balls in the first machine; the 46 Mega Balls housed in the second machine are gold colored – which we actually think is a nice touch.
To win the American Mega Millions lottery jackpot you do of course need to match 5 of the 56 white balls used in each draw, plus the golden megaball that is drawn from a pot of 46 numbers.
World record jackpot in 2018?
Mega Millions lotto has been making headlines in the autumn of 2018. At the time of writing this, the following is clear: Prior to the last draw the jackpot had already become the second largest of all time worldwide. The total amount of the first prize on Friday 19th of October 2018 was a staggering 1 billion US dollars.
Furthermore, this drawing produced no jackpot winner… So the current estimate, and this is most likely to grow rather than shrink is $1.6 billion. Did you say you want to play for that? Me too!
There are all sorts of records on the line here. Powerball currently holds the world record jackpot. The amount won on January 13th 2016 was $1,586.4 million. If estimates are correct then this one has already been surpassed. Like I said, most likely the amount will grow even further.
So the biggest lottery drawing of 2018, so far at least, will be the MegaMillions mammoth draw taking place on Tuesday evening 23rd of October. Should one lucky ticket holder match all 5 winning numbers plus the Mega Ball, he or she could take out a one time payment of 1 billion dollars.
Players looking to try their luck from outside the United States can do so via online play. We have a dedicated text about how to play MegaMillions online – this seems like an appropriate time to dust it off!
You should also monitor our site for further news coming in. The jackpot will grow further, remember you read it here first!
What is the time of the MegaMillions lottery draw?
The drawing takes place just after 9 pm (central time), it is performed live on TV, on the Chicaco cable superstation WGN-TV and takes place immediately following their 9 pm newscast. You can find more details regarding the Mega Millions cut off time here.
MegaMillions lottery draws are performed twice per week, on Tuesdays and Fridays while Powerball draws take place on Wednesdays and Saturdays.
When do American Mega Millions draws take place?
MegaMillions draw takes place on Tuesdays and Fridays and drawings are usually held at WSB-TV in Atlanta.
The original host was WSB's chief meteorologist, Glenn Burns. Currently, most MegaMillions drawings are emceed by the full-time host of Georgia Lottery drawings, John Crow, with Courtney Cason subbing on occasion. For Mega Millions lottery jackpots in excess of $200 million, the drawing is sometimes moved out to Times Square in New York City, with New York Lottery announcer Yolanda Vega co-hosting the event.
How to play american MegaMillions lottery online?
To play MegaMillions online we recommend using the services of TheLotter.com. This dedicated lottery company has over 10 years experience in selling lottery tickets on the internet and allows you to play a host of big and exciting lotteries all over the world. For example, the Italian SuperEnaLotto, European EuroMillions lottery, El Gordo in Spain and of course both the Mega Millions and Power ball in America.
You might have many further questions about the whole process of online play, although we do hope to have managed to answer most of the basic ones in this article. We would say that you are in good hands with PHL, so just click through to learn more about their approach and handling of the business. They also offer access to dedicated staff and live chat, and work hard to provide current and future clients with all the info they need at any given time.
As always, best of luck in all your endeavours – whether they are lottery related or not 🙂