There are many Powerball lotteries operated around the world but this article is dedicated to the American Powerball lottery, sometimes referred to as USA Powerball. You could say this one is the mother of all lotteries with regard to the size of jackpots generated and popularity worldwide.
Tickets for this gigantic and hugely popular lottery is currently sold through various lotteries in 44 USA states as a shared jackpot game.
Participating USA PowerBall lottery states include: Arizona, Arkansas, Colorado, Connecticut, Delaware, Florida, Georgia, Idaho, Illinois, Indiana, Iowa, Kansas, Kentucky, Louisiana, Maine, Maryland, Massachusetts, Michigan, Minnesota, Missouri, Montana, Nebraska, New Hampshire, New Jersey, New Mexico, New York, North Carolina, North Dakota, Oklahoma, Oregon, Pennsylvania, Rhode Island, South Carolina, South Dakota, Tennessee, Texas, Vermont, Virginia, Virgin Islands, Washington, Washington, D.C., West Virginia, Wisconsin.
The USA Power Ball lottery jackpot starts at $40 million and if it is not won, it rolls over the next draw. This has led to some truly exciting USA Powerball lottery jackpot draws, including one of the largest prize pot being awarded for a single set of lottery numbers. In a drawing on August 23rd 2017, a single ticket won a $758 million jackpot prize!
The roots of the USA Powerball go back to 1988 when its predecessor Lotto America was launched but the Powerball moniker was adapted on April 19th 1992 and from then on this popular lottery has grown from strength to strength. Not only is it played in 44 American states, lottery players around the world buy Powerball lotto tickets online and contribute to building up the legendary jackpot prizes.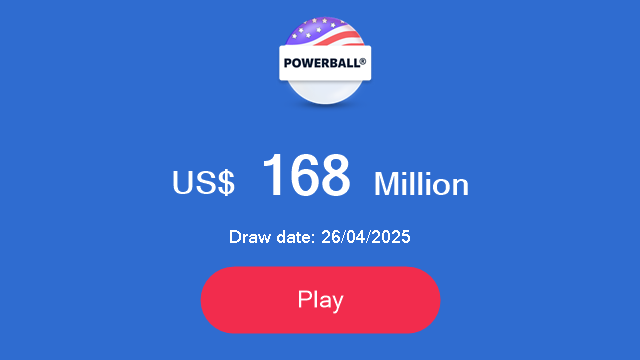 How to Play USA PowerBall American lottery?
To play USA Powerball American lottery you must choose 5 main numbers out of a pot of 59 numbers (white balls) and add 1 Powerball number, which is drawn from a matrix of 35. Match all six numbers and you have hit the USA Power ball lottery jackpot. Those 6 winning numbers basically mean that you have won tons of money!
Originally players selected 5/45 and 1/45 but over the years this evolved to the current system of 5/59 and 1/35 ensuring some truly giant USA PowerBall lottery jackpots on offer.
It is worth noting that even if you do not hit the jackpot, lower tier USA Powerball prizes can reach quite substantial amounts, especially if you add the "Power Play" multiplier option, which double the 2nd tier prize to $2,000,000 and multiply other tier prizes by between 2 or 4 times. A player does not even need to match all 6 numbers to become a millionaire with American USA Powerball lottery.
Read more on: What is "PowerPlay" option, when playing USA PowerBall lottery?
When to play the American Powerball USA lotto?
USA Powerball lottery draws take place on every Wednesday and Saturday, the time of the draw is 10.59 pm Eastern time and it usually takes place at Universal Studios in Orlando, Florida or the Florida Lottery's high-tech studio in Tallahassee. The draws are broadcasted across many national and local USA TV channels. The results of USA Power Ball lottery drawings are not official until they are audited by independent accounting firms.
PowerBall USA lotto Cash Jackpot v.s. Annuity Prize payments:
Should you choose the option for USA PowerBall lottery Cash Jackpot payment, you receive immediately approximately 50% of the total jackpot winnings.
Alternatively you can choose Annuity USA PowerBall Jackpot Prize payments, in this case you pocket in all 100% of the winnings, but the catch is that the annuity prize option is disbursed in 30 payments over 29 years.
The 30 annuity payments are not equal but based on an increasing rate schedule. For example, the first annual gross annuity payment on the base $15 million jackpot would be approximately $267,000 while the final payment would be approximately $834,000.
The winner gets the first payment immediately and then guaranteed annual payments for the next 29 years.
Please also bear in mind that there is a tax requirement of around 36.00% on your USA Power Ball lottery jackpot winnings.