EuroMillions Lottery Draw
Results Friday 6. July 2012
The Euro Millions lottery draw performed last Friday night marked a landmark in the history of the beloved lottery game. This was the 500th Euro Millions lottery draw since the popular lotto game was officially launched close to eight years ago – in the month of February of 2004. We congratulate this great lottery and its operators!
The jackpot prize on offer on this glorious occasion had been built up over four previous draws that failed to find a Euro Millions winner. The jackpot prize amount was over 53 million euros but again no one managed to win the Euro Millions jackpot prize, so be ready for a draw worth at least 60 million euros on Tuesday 10. July 2012.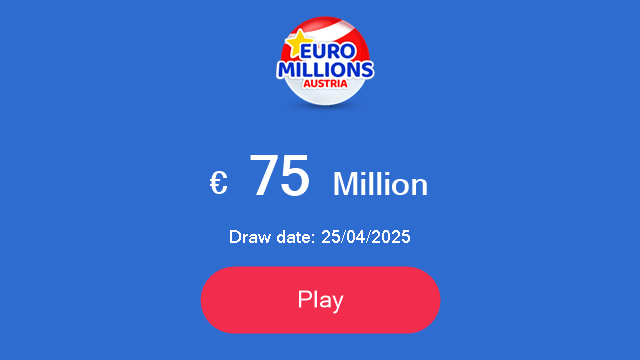 Euro Millions lottery winning numbers 6th of July 2012:
Main numbers: 31 – 32 – 38 – 40 – 42
Lucky stars: 1 – 3
Even though there was no lucky Euro Millions jackpot winner in last nights draw, over 50 people won substantial amounts. Please consult the table below for a full breakdown of number of Euro Millions lottery winners and prize amounts:
EURO MILLIONS RESULTS

NO. OF WINNERS

PRIZE PER WINNER

Jackpot
0
£ 42,320,743
€ 53,006,942
$ 65,866,427
Match 5 and 1 Star
4
£ 365,128
€ 457,324
$ 568,271
Match 5
4
£ 121,709
€ 152,441
$ 189,424
Match 4 and 2 Stars
48
£ 5,072
€ 6,352
$ 7,893
Match 4 and 1 Star
942
£ 226
€ 283
$ 352
Match 4
1882
£ 114
€ 142
$ 177
Match 3 and 2 Stars
2304
£ 67
€ 83
$ 104
Match 2 and 2 Stars
35867
£ 20
€ 24
$ 30
Match 3 and 1 Star
43181
£ 16
€ 19
$ 24
Match 3
87027
£ 13
€ 16
$ 20
Match 1 and 2 Stars
211856
£ 10
€ 12
$ 15
Match 2 and 1 Star
697179
£ 8
€ 10
$ 13
Match 2
1416050
£ 4
€ 5
$ 7