SuperEnalotto Italian lottery gives you a simple shot in the dark at being something most could only dream. Based off of the winning odds for Italian Super Enalotto, your chances of winning are around 1 in 622 million, but that is still a chance to win and that is all that matters and is needed.
Just like any gambling machine, Italian Super  Ena lotto places the winning odds against you, but unlike other sources of won income, this promises the largest pay-out ever comparing to the investment. Since the recession of 2008, the entire world has looked for a reason for collective hope. This may not be the best source of communal collective but it's a way people get to have an insight of what the drastic changes would mean to them and the loved ones around them to win such a massive Italian Super Enalotto jackpot.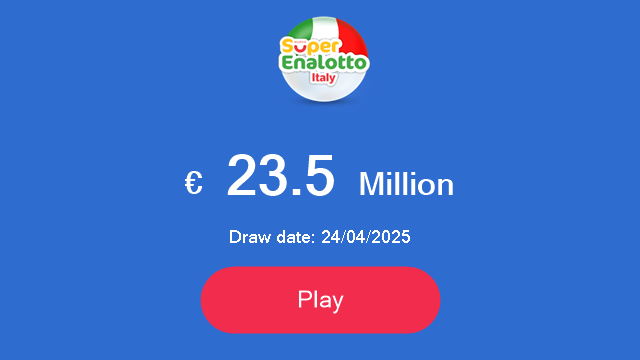 SuperEnalotto Italian lottery jackpots rollovers are frequent and Super Enalotto jackpots can reach huge amounts, commonly well above €100 Million Euros mark! Furthermore, there is now a sister lottery which offers such sums to play for every week – more about that one here.
The level of record Super Enalotto jackpots can be compared in Europe to only the jackpots levels achieved in pan-European lottery Euromillions. That is why not only residents of Italy participate in Super Enalotto game but also residents from many European countries, as well as from around the whole world.
Detailed odds of winning Super Enalotto Italian lottery are presented in the table below:
Divisions Match Winning Odds
Jackpot 6 main numbers 1:622,614,630
2nd Prize 5 main numbers + Jolly Number 1:103,769,105
3rd Prize 5 main numbers 1:1,235,346
4th Prize 4 main numbers 1:11,907
5th Prize 3 main numbers 1:327
If the 1st and the 2nd level of Superenalotto Italian lottery cash prizes are not won, both amounts are added to increase the Super Enalotto jackpot prize for the following Italian lottery draw.
What are the winning odds for Super Enalotto Italian lottery?