Before you scroll down to see a detailed table with odds of winning in USA PowerBall American lottery, here are a couple of notes:
People play USA Powerball lottery because they are after the massive jackpot prizes. But certainly you must know that the USA American Power Ball lottery also offers pretty hefty second tier prizes which can be life changing sums of money.
Previously, if you matched the first 5 main numbers, you would have won $250,000. That was before American Powerball lotto changed its rules. The $250,000 prize was increased to $1 million. That is a four-fold increase, great news for USA Powerball players!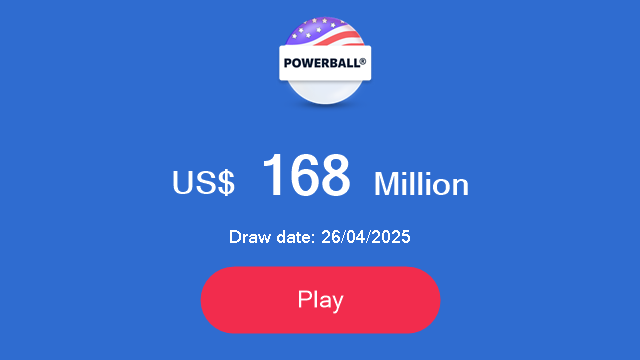 Sometimes you can win twice that amount, namely $2 million.
To take advantage of those double winnings you need to purchase the PowerPlay option.
Read more on: How "Power Play" works with Powerball USA American lottery.
The odds of winning the second tier USA Power Ball American lotto prize ($1 million or $2 million) are around 1:5,153,633. Those winning odds are still long, but at least they are much better than the odds of winning the main USA PowerBall lottery jackpot prize, which are 1:175,223,510. And you still have the chance of becoming a millionaire!
Please consult the table below for detailed winning odds for USA PowerBall American lottery plus prize division structure:
USA PowerBall American lottery Prize Divisions Structure
| | | |
| --- | --- | --- |
| Divisions | Match | USA PowerBall Winning Odds |
| 1 Prize | 5 Main Numbers +PowerBall | 1:175,223,510 |
| 2 Prize | 5 Main Numbers | 1:5,153,633 |
| 3 Prize | 4 Main Numbers + PowerBall | 1:648,976 |
| 4 Prize | 4 Main Numbers | 1:19,088 |
| 5 Prize | 3 Main Numbers + PowerBall | 1:12,245 |
| 6 Prize | 3 Main Numbers | 1:361 |
| 7 Prize | 2 Main Numbers + PowerBall | 1:707 |
| 8 Prize | 1 Main Number +PowerBall | 1:111 |
| 9 Prize | 0 + PowerBall | 1:56 |