Think big
Think USA Powerball lottery
The USA Powerball lottery jackpot is boasting a sweet number estimate of 214 million dollars. These big lottery jackpots are like buses, miss one and the next is around the corner! That is not bad at all and coming right on the heels of a humongous Euromillions jackpot drawn Tuesday night.
There are two big lotteries operated over in America; the Powerball lottery and the American Mega Millions lottery. Both of these bad boys generate huge jackpot amounts that have a tendency to climb to hundreds of millions of dollars. I know for a fact that a lot of Americans love to play the Euromillions and likewise, we in Europe tend to eye up the prizes when the reach levels such as the current USA Powerball lottery jackpot. But what next, are you just going to sit there in front of the computer screen and think about what you could do IF you player Powerball and managed to win this prize money?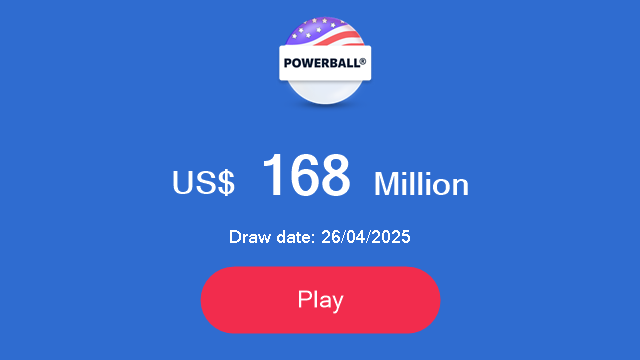 You don't have to just dream. Whether you are in the UK, Australia or Kuala Lumpur, you can simple go online for your USA Powerball tickets. Sounds complicated you say? Not at all, singing up with a lottery ticket agent is easy and simple and they handle everything for you. Click the banner to visit the leading one and learn more about their operation:
The next American Powerball draw takes place on Saturday, the 17th of November. That would complement a Saturday night out nicely, getting your hands on some lottery money, and with the Euromillions being won it kinda makes sense to rather try your luck at something where the jackpot is substantial. Think about it, 15 million euros versus 214 million dollars – at least in my case the choice is not a difficult one!
There's plenty more info about this lottery here on our site, if you want to learn more about how it works: About Powerball Lottery
We wish you the very best of luck if you decide to make a go of it – our numbers are already locked in 🙂
Your friends at Euromillions Lottosystem