The Italian Superenalotto is a lottery game that started operating under the current name back on December 3, 1997. It is known throughout the world for having some of the largest jackpots and drawings are held three times at week on Tuesdays, Thursdays and Saturdays. The accumulated SuperEna jackpot prize recently broke 75 million euros and since there is a lot of interest, we decided to provide some insights into how this famous game is played. Lottery games are of course essentially simple but there are always some variations from one to the other. Read on to learn the basics of Superenalotto.
In order to play the Italian Superenalotto, you must of course purchase a ticket. One ticket will give you two attempts. Your goal is to match six numbers. There are 90 to choose from and in order to win the jackpot, all six numbers must match. For those who match five numbers, a second chance is given in the form of a 'Jolly' number. When five numbers match along with the Jolly number, a higher prize will be issued than if just five numbers are matched. Prizes are also given for matching three or four numbers correctly. At least three numbers must match for a prize to be awarded.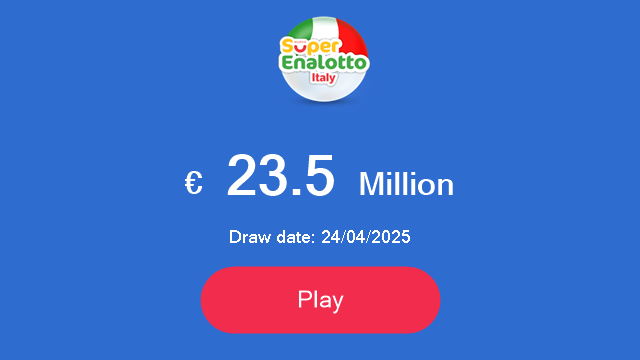 In addition, you may purchase a 'Superstar' number through the Italian Superenalotto. This number costs extra and the drawing is held separately from the drawing for the jackpot. For this reason, the winning number may be the same as one of the winning numbers in the standard drawing or the Jolly number. Many choose to play this lottery because there is no tax on your winnings and you can choose either a yearly payment or one lump sum. Tickets may be purchased online so you can play from anywhere in the world. What other reasons can explain the popularity of this drawing?
On October 10, 2010, a jackpot was paid out by the Italian Superenalotto to the tune of 177,729,044.00 euros. Another jackpot the same year was 139,000,000.00 euro and the year before saw a jackpot of 147,000,000.00 euros. Now imagine that much cash in your pocket and it is all tax free. Think of the things you could do with this much money. With the right investment strategy, your family wouldn't have to work again for generations and you could do all the things in life you had dreamed of.