Play American PowerBall lottery online
American PowerBall lottery has gone absolutely nuts
by rolling-over for the 14th time and reaching
a gigantic amount of almost half a billion US dollars!
$425.000.000 USD
For Wednesday draw the 28th of November 2012
The jackpot amount of $425.000.000 is a new PowerBall American lottery record main prize ever reached in Power Ball lotto history! This jackpot is already $60.000.000 USD larger than the previous USA PowerBall lottery record jackpot set in 2006 ($365 million USD at that time) and is the second biggest jackpot prize in the history of world lotteries.
Do not miss a chance to take part in this PowerBall lotto draw and making history.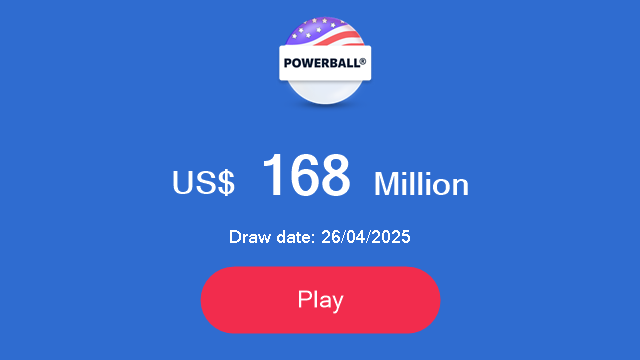 Play USA PowerBall American lotto online today!
Many lottery enthusiasts are playing American PowerBall lotto in pursuit to win this massive main prize in the Wednesday draw on the 28th of November 2012. They ask many questions: How far it can keep growing? Would we see a new world jackpot record by the end of 2012? Well… we are still $215 million USD away from the world record jackpot of $640 million USD set by MegaMillions (another multi-state American lottery) at the end of March 2012. However it might happen much quicker than expected, because PowerBall lottery tickets sales soared recently fueled by huge demand from American based players and those from all over the globe playing PowerBall online, chasing the dream of becoming a winner of this gigantic sum of money. This usually contributes to rapid acceleration in the growth of jackpots sizes. We shall find out soon after Wednesday Power Ball draw. Keep tuned to our webpage to be updated with the latest news and developments regarding the worlds biggest lotteries.
Please remember that you can play for this huge Power Ball lottery jackpot for free. Simply purchase 1 El Gordo de Navidad raffle ticket with PlayHugeLottos (PHL) and you will be awarded with 1200 Lottopoints, which gives you enough points to play in the Powerball American lotto draw with 2 sets of numbers.
Considering the magnitude of both jackpot prize sizes; El Gordo de Navidad (€2.3 billion Euros) and American PowerBall ($425 million USD), just imagine winning both of these jackpot prizes. That would be an amount worth nearly as much as the entire operations budget of some nations!
Learn: How to play USA PowerBall American lottery online?
Check options: Where to buy American PowerBall lotto coupons online?