The Euro Millions lotto jackpot
has reached its maximum limit of:
€190.000.000 Euros!
This means that Euro Millions lotto jackpot
MUST BE WON in next Friday Eurolotto draw:
on the 10th of August 2012
Do not miss a great chance to win this huge Euro Millions lotto jackpot.
Click banner below to play today!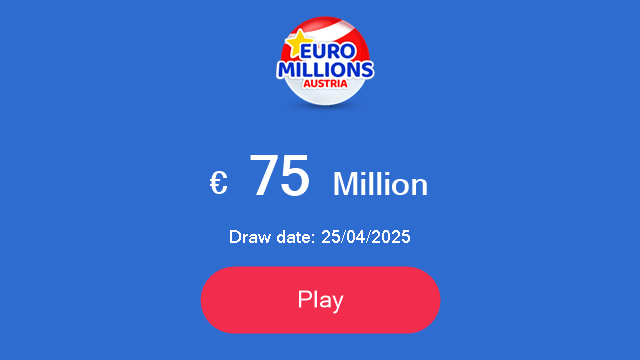 Once the Euro millions lotto jackpot has reached the maximum jackpot cap of €190 million, it can only roll once before it must be won. If the Euro lotto jackpot is not won after one roll, the full jackpot prize fund will roll down to the next Eurolotto winning prize tier.
Any additional prize money above €190 million will be shared between the winners in the next prize-winning level in that draw.
The last time the Euro millions lotto jackpot was distributed to the next prize-tier level, seven UK players won £6.7 million each.
This means that Euromillions lottery players in next Friday Euro lotto draw, have a chance to become millionaires by matching 5 main numbers and only 1 lucky star. This is huge improvement of winning odds by around 5 times! From 1:116,531,800 down to 1:23,306,360 (This scenario of course only applies to the situation when there are no main Euro Millions lotto jackpot winners.)
Only a couple of weeks ago, during special Olympic Euro millions lotto super draw, 100 lucky Eurolotto players become millionaires in one night.
The next Friday Euro millions lotto draw could be another golden night with the potential to generate several multi-millionaires in one single Eurolotto draw!