Think big, think biggest lottery jackpots!
Lotto players have varied tastes but I think all of us keep an eye out for the biggest lottery jackpots. Of course we all have our favorite lotteries, which we tend to play more than others, but if the jackpot amount is right then of course it catches our eye. In this day of online play I sometimes feel like a kid in a candy store, there's just so much good stuff to choose from! When I was scanning the jackpots today I noticed quite a few interesting prize pots and thought I'd give you all the news.
Biggest jackpot prize of the week
The American Powerball lottery is one of the biggest ones out there, it can accumulate incredible amounts of money in short periods of time. A rollover in yesterdays draw means the jackpot amount to play for is estimated around $150 million dollars! Click the banner to buy a ticket or learn more:
Win 20 tickets for the upcoming
EUROMILLIONS SUPERDRAW

Just enter your email address and you're in!
The Euromillions lottery is well known around the world and I can admit that it has a special place in my heart. I like how it is set up and the fact that many European nations are combining to create bigger prize funds. Tomorrows Euromillions lottery jackpot is estimated to be worth 51 million euros! If you don't have a ticket yet, don't wait too long: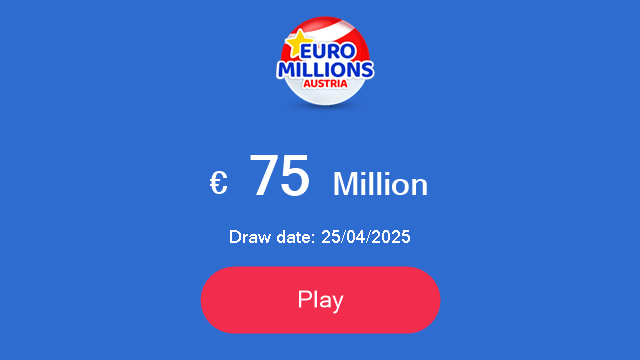 The Italians like to take it slow and enjoy their food and wine. The Italian Superenalotto has a similar tempo as the people of the nation. The jackpot prize takes time to build up but when things get moving, you never know where's its going to stop. Next Superenalotto draw is for a jackpot prize worth 50 million euros and some change. You can play online here and the tickets are available at a cut price:
The Eurojackpot lottery is a relatively new lottery but there is a lot of buzz and excitement around it. While a jackpot prize worth 21 million euros maybe does not sound so huge compared to the other I have mentioned, it is worth considering that the odds of winning are considerably better with Eurojackpot. Follow the banner to check this one out:
So here are the four biggest lottery jackpots on offer this week. Have a look and decide which one you like but don't take to long in securing tickets, some are drawn in less than 24 hours!
Remember that you can always visit us here at Euromillions Lottosystem to learn what's new in the world of lottery 🙂