The $140 million Powerball draw numbers for 27th April 2013 did not produce a jackpot winner. No one managed to match 5 main lottery numbers plus the Powerball to win the grand prize. Therefore the next Powerball draw on Wednesday 1st of May 2013 has an estimated jackpot value of 165 million dollars!
The 5 numbers drawn on Saturday were 3 – 23 – 48 – 54 – 55 and the Powerball number was 5. While the grand jackpot prize was not hit, some players took home huge winnings. There were two second prize tickets which matched all five of the main lotto numbers. One was bought in Georgia while the other was bought in New York. They won $ 1,000,000 each.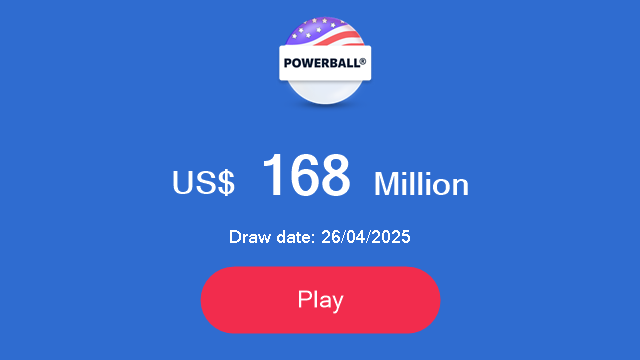 Read more on How to play USA Powerball lottery online
Additional Powerball Prizes Won
There were of course several other prizes won in this draw and these include twenty tickets which matched four main numbers plus the Powerball, winning$10,000 each. Four other players matched four plus one but these also selected the Play Power option, thus multiplying the winning by four and scooping $40,000 each. Additional prizes went to 943 ticket holders which matched 4 main numbers, worth $100 for each.
Powerball Prize Tiers
There are nine different prize tiers and the total number of tickets winning some sort of prize amounted to 834,007 in total. These claimed a sum of $7,281,574 in prizes from this draw. The game is played in 44 states of America plus online from all over the world and the drawings take place two times per week on Wednesdays and Saturdays. The Jackpot prize amount starts at 40 million dollars and if won, the annuity option is payable in thirty increment payments within 29 years though winners can choose to receive the jackpot prize in one lump sum payout. With the $140 million Powerball draw numbers for 27th April 2013 yielding no winner,the prize in the next Powerball draw has leaped to $ 165 million dollars.
RESULTS
NO. OF WINNERS
PRIZE PER WINNER
Jackpot
0
£ 90,468,000
€ 107,700,600
$ 140,000,000
Match 5
2
£ 646,200
€ 769,290
$ 1,000,000
Match 4 plus PB
24
£ 6,462
€ 7,693
$ 10,000
Match 4
1106
£ 65
€ 77
$ 100
Match 3 plus PB
1900
£ 65
€ 77
$ 100
Match 3
64594
£ 5
€ 6
$ 7
Match 2 plus PB
35664
£ 5
€ 6
$ 7
Match 1 plus PB
241037
£ 3
€ 4
$ 4
Match PB
489680
£ 3
€ 4
$ 4